Events
» Christendom mainstreaming - Revaluating and reconfirming the role of Christianity in European policy
Christendom mainstreaming - Revaluating and reconfirming the role of Christianity in European policy
When: Wednesday, May 24, 2017 10:00 - Wednesday, May 24, 2017 15:00
Where: Sejm, Wiejska 4/6/8, 00-902 Warsaw, Poland

Sallux, the ECPM Foundation, together with the Right of the Republic Party in Poland invites you to its conference on Christendom mainstreaming - Revaluating and reconfirming the role of Christianity in European policy
During this conference, several speakers will explore the need and the ways to put Christian thinking back at the basis of European policy. Christian thinking has been set aside by a large part of the European Institutions in the last decades. More and more they push Christian democracy to the side-lines of the EU. At the same time, we witness a decrease of solidarity and cohesion in the societies of Europe.
Christian relational thinking is a guarantee for a better future for the peoples of Europe. If we want to work towards a better EU we need to start with reconfirming the role of Christian values and virtues for our continent. Sallux has launched a new publication:Confederal Europe, Strong Nations, Strong Union which is a concept for a new and better Europe.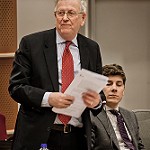 "Relationships should be at the centre of our economic system" "The Christian teaching is that we need to control the power of central governments", says economist Michael Schluter, co-author of 'Confederal Europe: Strong Nations, Strong Union'.
The conference will take place in the Polish Parliament in Warsaw on the 24th of May. The day before, the ECPM will have its General Assembly where it will elect a new President and Board.
You are warmly welcomed for both events, registration for this conference is possible through the link below."
PROGRAM
10.00 – Opening conference (several speakers from Right of the Republic and partners) | Marek Jurek, Kazimierz Ujazdowski
10.30 – Dr. Michael Schluter - Relational Research Topic: Confederal Europe; Strong Nations, Strong Union
11.15 – Response Marek Jurek, Kazimierz Ujazdowski, Branislav Skripek, Arne Gericke, Bas Belder and Peter van Dalen
11.45 – Q & A
12.15 – 13.15 Lunch break
13.30 – ks. Piotr Mazurkiewicz - Institute of Political Science of Cardinal Stefan Wyszyński University (UKSW) / Department of the Cultural Foundations of Policy TBC
14.00 – Response experts and Q & A
14.45 – Closing remarks Marek Jurek
15.00 - End of conference cocktail
Warsaw Tour (Optional / individual costs)
INFORMATION
Where: Sejm, Wiejska 4/6/8, 00-902 Warsaw, Poland
When: 24th May 2017 10:00hr - 15:00hr.
Registration: Required before 20 May 2017
Security:Don't forget to take your Passport/ID with you for security at the entrance of the Sejm.
---
Directions chevron_right