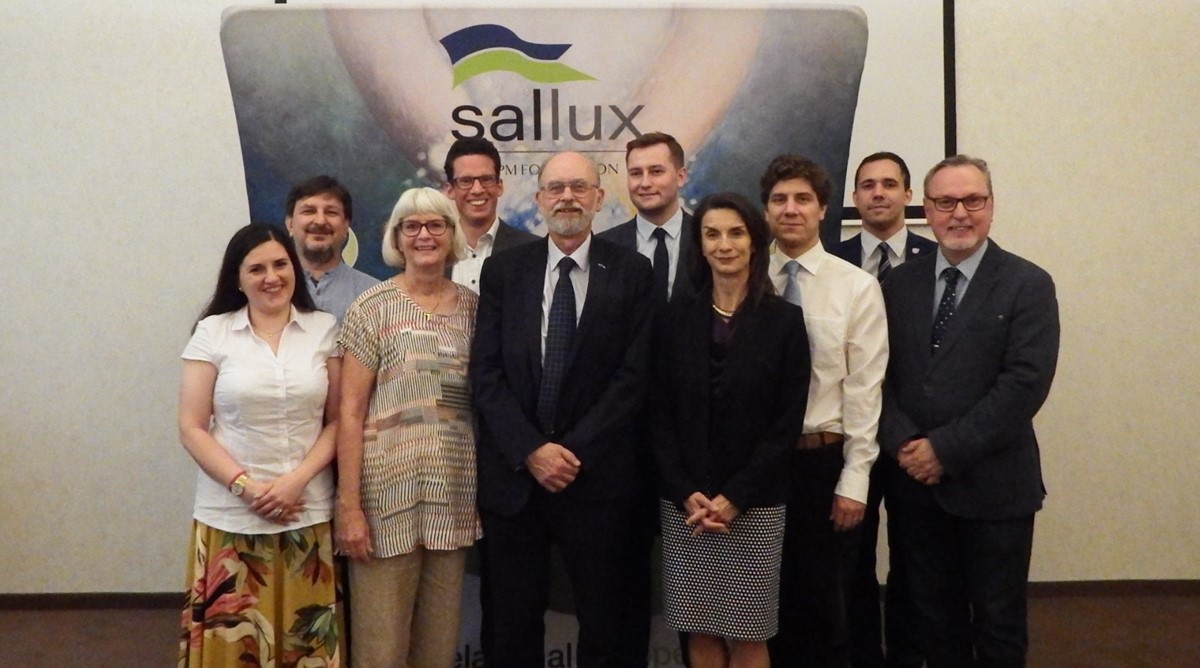 Chairman: David Fieldsend, England
David comes from England and began his working life as a town planner, first in East Africa and then in the south of England. He moved into EU Affairs in the 1990s, first representing Cornwall County Council, then a Christian NGO and now the Archbishop of Canterbury. He and his wife Anne have lived in Brussels since 2002. He took a postgrad course in Theology and has had an active Christian preaching ministry in his "spare" time since he was a student. He is particularly interested working out ethical issues practically and has a European Masters in Bioethics. To him, being "salt and light" means learning Christian values and being willing to live by them.
Vice-Chairman: Antero Laukkanen, Finland
Antero is a Member of Parliament from Finland, Member of Committee of legal affairs, representing the constituency of Uusimaa for the Finnish Christian Democrat (Suomen Kristillisdemokraatit, KD) Party, led by Sari Essayah. He has served in the Espoo City Council since 2001. He is Member of the Audit Board, previously Vice-Chairman, Member of the Foreign Ministry's International Human Rights Advisory Board, member of the supervisory boards of regional councils (2004-2012), He is involved in social councils and associations including an initiative to assist low-income households and a center for drug addicts. He is Board Member of the Finnish Evangelical Alliance, and Board Member of Sallux. For Antero to be salt and light means gain people's appreciation and respect, and serve with humility.
Treasurer: Walter van Luik, the Netherlands
Walter van Luik is the treasurer of Sallux. He works for the Dutch MEP (SGP/ECR) Mr. Bas Belder. Walter specialises in global affairs, with a special focus on the Far East. To him, being "salt and light" means spreading the savour and shine of the gospel and our Christian values throughout the world.
Secretary: Christophe Foltzenlogel, France
Christophe has been working as a legal expert for the European Centre for Law and Justice since 2012. Before working for this NGO defending family and freedom of religion, Christophe studied law at the faculty of Strasbourg (France) and validated his Master II in Human Rights with a Mémoire on « The Protection of Maternity and Family within the European Social Charter ». Being « salt and light » for Christophe means to transmit Faith through different modern ways without losing its content.
Board member: Slawomir Adam Ducher, Poland
Sławomir is a law graduate from the John Paul II Catholic University of Lublin (Poland) and a Ph.D. candidate in the field of Constitutional Law. Between 2017 and 2019 he was working as a policy advisor in the European Parliament focused on Civil Liberties and Justice (LIBE Committee) and also involved in foreign affairs, mostly Eastern Partnership, relations with African countries and human rights issues. Being 'salt and light' for Sławomir means to live each day in accordance with the gospel and to always dedicate our choices, decisions, and simple activities to others.
Board member: Karin Heepen, Germany
Karin Heepen is the chairwoman of Bündnis C – Christen für Deutschland, a Christian political party in Germany. She is a civil engineer by profession and has further degrees in Christian psychology, theology and cross-cultural leadership. As an engineer she worked at various locations in Germany and the Middle East. She has been teaching at various universities and institutes psychological and theological subjects, philosophical and theological anthropology and ethics and intercultural studies. She is also in charge of national and European political prayer networks.
For Karin to be salt and light means to stand for truth in love with people - especially in the political polarization of our society.
Board member: Annelie Enochson, Sweden
Annelie is an architect by profession but has also been active in politics. She was a member of the Swedish Parliament between 2000 and 2014 representing the Christian Democrats. The political focus of Annelie during her time in the Parliament concentrated on issues like freedom of speech and religion in Sweden and internationally as well as compassion for the less fortunate in the society. Additionally, Annelie has also been strongly committed to and defended the importance of the traditional family as the foundation stone for a strong and secure society. Being salt and light for Annelie means to be a salt against the decomposition in the world and to point at Jesus Christ as the light of the world.
Board member: Silviu Rogobete, Romania
Silviu Eugen Rogobete recently returned to the position of Professor of the Department of Political Studies, West University of Timisoara, following a seven-years serving as Consul General of Romania in South Africa (2006-2013). In October 2016 he was appointed as Associate Professor Extraordinary of Stellenbosch University (School of Public Leadership), South Africa. He teaches courses on Foundations and the Practice of Human Rights, Philosophical and Political Anthropology, Religion and Politics. In 1998 he founded the Areopagus Center for Christian Studies and Contemporary Culture, and in 2001 the Regional Centre for Social Integration and Human Development, both in Timișoara, Romania. For Silviu, being salt and light is a way of being, a way of thinking, a way of doing!
Board member: Gabriela Urbanova, Slovakia
Gabriela Urbanova is working as a policy advisor in the office of the Slovak Member of the European Parliament, Branislav Škripek, where she is responsible for the economic and employment policies. Ms. Urbanova holds a PhD. in International economics. She has been teaching the subjects of International organisations and European integration at the State university of Slovakia and working as business consultant in Vienna and Bratislava. Gabriela was long term leading activities for Christian youth in Slovakia.
Board member: Adam Bohár, Hungary
Adam Bohár is from Hungary and has a wide variety of interests, spreading from nature conservation (which he got a bachelor degree in 2017) to international studies, where he focuses on the V4 region. He is a calvinist and to him salt and light means to fulfill his duties boldly and passionately, whether it means to serve with humility at the last row or lead in the first line.