Events
» Making the Case for Freedom
Making the Case for Freedom
When: Wednesday, June 19, 2019 17:00 - Wednesday, June 19, 2019 20:00
Where: European Parliament, Brussels, Room PIA002

Together with the SHEMA Institute, the ECR Group and the EJA (European Jewish Association Group) Sallux welcomes you to participate at our mutual event on Human Rights & Free Speech in Europe.
Background:
The concept of the conference is to bring together leading conservative voices in Europe and explore how to best make the case for freedom, equality and individual liberties in Europe in order to reach a wider audience. As the very concept of human rights is being politicized and free speech is often diluted, clear leadership is needed to reclaim these terms as part of the conservative platform and defend freedom today.

Keynote speaker: Dennis Prager from PragerU
Dennis Prager is the co-founder of PragerU, one of the biggest conservative platforms in the US which has been reaching millions of viewers worldwide, including in Europe. Dennis is a sought-after lecturer for over 40 years, one of America's most respected thinkers and a bestselling author, writer and radio host.
Registrations for this event have closed.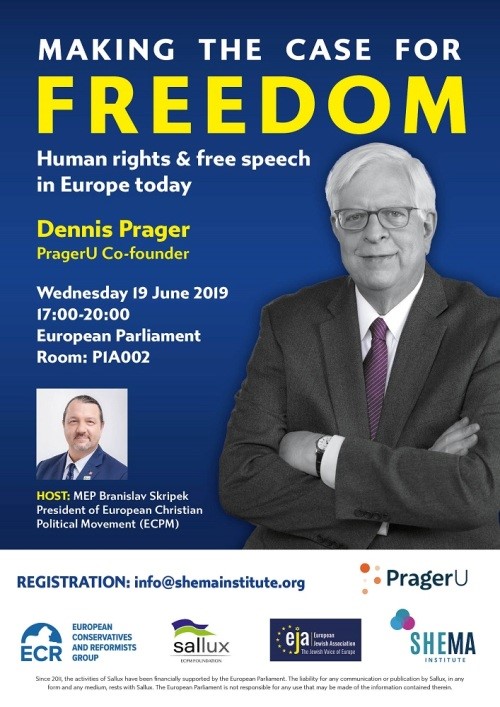 17.00 - 17.30: Registration & Sandwich lunch buffet reception
17.30 - 17.50: Opening remarks
17.30: Welcoming remarks by MEP host and Sallux
17.40: Opening remarks by organisers - Shema Institute
17.50: Opening remarks by co-sponsors EJA, Rabbi Menachem Margolin
18.00 - 18.20: Introduction of Hungarian State Secretary, His Excellency Vince Szalay-Bobrovniczky, Hungarian State Secretary for Civil and Social Affairs.
18.20 - 18.30: Introduction of Keynote and presentation of video.
18.30 - 19.30: Keynote Speaker Dennis Prager from PragerU "MAKING THE CASE FOR FREEDOM"
Appealing to a wider audience. Presentation of viewers reached in Europe.
19.30 - 19.50: Q&A and Discussion by MEPs Discussion by MEPs and Questions from the audience.
19.50 - 20.00 Closing remarks Closing remarks by MEP host and co-organisers.
---
Directions chevron_right