News
» Event report: Clapham Institute, Almedalen week in Visby, July 2018

Monday, July 9, 2018
Event report: Clapham Institute, Almedalen week in Visby, July 2018
The Almedalen week is Sweden's largest gathering of politicians and opinion-makers. This year the Clapham Institute held two seminars where the institute presented a new report on religion in the Swedish school system. The first seminar was about Islam and the limits of freedom of religion. The participants were the editorial writers Stefan Gustavsson and Jacob Sidenvall, David Thurfjell, professor of religion, plus Islamic leader Mohamed Temsamani. The discussion highlighted what problems the sharia, Islamic calls to worship, and the apostasy laws poses to an open society and freedom of religion and how society ought to deal with these. The interest for the seminar was great and the boat deck could hardly fill the about 80 people who turned up.
At the second seminar a new report co-arranged with Swedish Evangelical Alliance and Scandinavian Human Rights Lawyers called "Prohibition of religion in school? – A review of the concept of confession in the Swedish school system" was launched. Here is described the support for confessional schools in international law and how how Swedish authorities have handled Christian schools in a discriminatory manner compared to other schools and in relation to Swedish school law and curriculum. Therefore the report suggests an alternative writing in Swedish school law, where the concept "concessional" is replaced with writings which may give the whole school system a more open and neutral handling of all schools in Sweden.
At the seminar two of the report authors Clapham director Per Ewert, and Ruth Nordström, chief lawyer at SHRL, summarized the findings in the report, which was then commented and debated by Jacob Rudenstrand, assistant secretary-general at SEA, and Ulf Gustafsson from the secular Humanist society.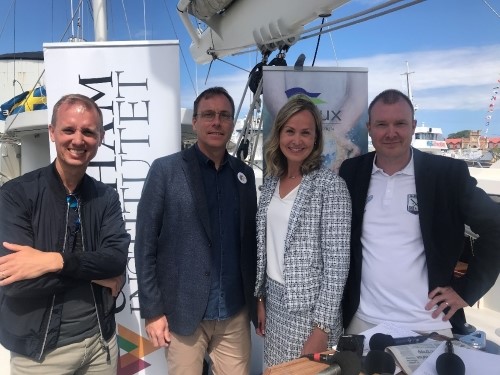 Apart from the seminar, presenting the report in other arenas has been a success as well. On the day of the seminar an article was published in the national daily Svenska Dagbladet, with a link to the report. Moreover, the opportunity arose to meet with the government investigator on confessional schools as well as with Ardalan Shekarabi, minister of civil affairs, who have been the government's strongest voice against confessional schools. A great opportunity to hand them over the report for further reading and discussion on the matter.
All in all it was a very satisfying event with participation of the Clapham Institute and Sallux in Almedalen and we hope that good fruit will come in the future.