News
» Event Report: Clapham Institute, Almedalen week in Visby July 2019

Tuesday, July 9, 2019
Event Report: Clapham Institute, Almedalen week in Visby July 2019
The Almedalen week in the Hanseatic town of Visby on the isle of Gotland is Sweden's largest political gathering, taking place the first week in July. All party leaders deliver speeches, which are considered to be some of the most important moments of the political year. Also, several NGO's and thinktanks arrange seminars. There are regularly over a thousand different seminars. The larger denominations and Christian organizations also take part and the Clapham Institute is a regular participant. This year the institute hosted seminars on relations between Sweden/Europe and Israel in cooperation with Sallux.
There was a good panel of experts, where Mr. Per Ewert (Director Clapham Institute) first interviewed the captain of the ship Elida, Stefan Abrahamsson, about the journey to Israel, and how this initiative was received by Israeli media and politicians. As commentators on the rather low medial and political interest from Sweden, compared to the much more covered "Ship to Gaza", Annika Borg from the Clapham Research Council and a participating scholar in our upcoming research project on the relations between Sweden and Israel; and Lennart Sacrédeus, former MEP and Swedish MP were all invited.
The weather on the boat deck was very rainy which is viewed as a "source of life" in Israel.
The seminar was recorded and can be seen at Clapham's YouTube channel, website and will also be shown at the TV station HimlenTV7.
All in all, we are very satisfied with our participation in Almedalen. We are grateful for the fruitful cooperation between the Clapham Institute and Sallux.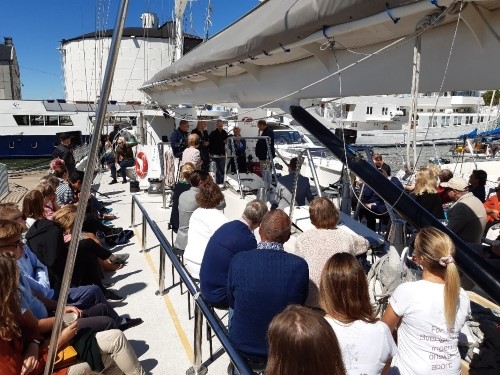 Photo taken on deck of the boat at the seminar