News
» Event Report: Conference on Christian Politics in Eastern and Western Europe

Wednesday, November 21, 2018
Event Report: Conference on Christian Politics in Eastern and Western Europe
On 17th and 18th November 2018 Sallux Foundation and CDI Georgia organized a two-day conference on Christian Politics in Eastern and Western Europe aimed at building awareness in the CDPP and YCD local and regional leaders of the basic Christian Democratic values, state of Christian politics in Georgia as well as in Eastern and Western Europe.
The seminar was attended by all CDPP national, 45 local and regional and 10 YCD leaders from different regions of Georgia. As result of the speeches of the CDPP national leaders as well as the guest speakers, participants were able to grasp a better knowledge of Christian Democracy as a political ideology. The latter raised a deeper understanding in differences between Christian politics based on region and denomination of Christianity.
DAY ONE
The Conference was opened by the CDI Director Giorgi Targamadze, who was followed by former MPs from the CDPP/CDM. CDPP Board members Giorgi Akhlvediani and Leven Vepkhvadze were amongst others present as speakers.
Nodar Sarjveladze, the founder of the Christian Democratic Institute (CDI) and Ratie Maisuradze, the head of newly established Christian Democratic Centre (CDC) gave lectures on History of Christian Politics and the theoretical aspects of Christian Democracy, while CDM/CDPP former MPs Nikoloz Laliashvili and Magda Anikashvili spoke about practical aspects and their experience on Christian Democratic Ideology.
The Panel discussions were followed by short Q and A sessions.
DAY TWO
The second day of the conference was opened by CDPP Acting Chairman and ECPM vice President George Rukhadze, who spoke about the state of Christian politics in the Western and Eastern Europe, the upcoming European Elections and probability of Christian politicians from the different countries from the European Union to get elected. Ilia State University Professor Levan Kavteli who lectures on Political Ideologies in Europe spoke about differences of Christian parties in Eastern and Western Europe.
The closing speeches were given by Giorgi Targamadze of the CDI and George Rukhadze of the ECPM.
The event well contributed to enrich the knowledge of CDPP/YCD regional/local leaders in theoretical and practical aspects of Christian Democracy, also the position of Christian political parties in Eastern and Western Europe. And the final dinner which followed the conference helped to build a team spirit within the party as well as provided an excellent, friendly and informal atmosphere for the regional and national leaders of the CDPP to network.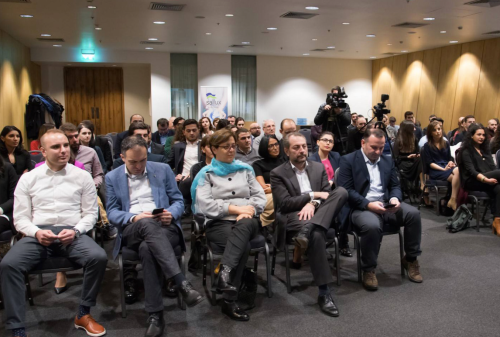 The conference was well attended