News
» Event Report: Seminar on Christian Politics in Eastern and Western Europe

Monday, July 20, 2020
Event Report: Seminar on Christian Politics in Eastern and Western Europe
On the 16th and 17th July 2020 Sallux Foundation and CDI Georgia organized a two-day seminar on Christian Politics aimed at building awareness in the CDPP and YCD young members of the basic Christian Democratic values, state of Christian politics in Georgia as well as in Eastern and Western Europe.
The seminar was attended by 30 young local and regional leaders from different regions of Georgia. The participants listened to the CDPP national leaders as well as specially invited lecturers to grasp better knowledge of Christian Democracy as a political ideology as well as what is the state of Christian and Christian Demoractic political parties in Eastern and Western Europe. The speakers also focused on explaining differences in Christian politics based on region and denomination of Christianity.
The seminar was opened by the CDI Director Giorgi Targamadze, who was followed by
former MPs from the CDPP/CDM. CDPP board members Giorgi Akhlvediani and Leven Vepkhvadze were also amongst the speakers.
Nodar Sarjveladze, the founder of the Christian Democratic Institute (CDI) and Ratie Maisuradze, the head of Christian Democratic Centre (CDC) gave lectures on History of Christian Politics and theoretical aspects of Christian Democracy, while CDM/CDPP former MPs Nikoloz Laliashvili and Magda Anikashvili spoke about practical aspects and their experience on Christian Democratic Ideology.
The lectures were followed by an active Q and A session.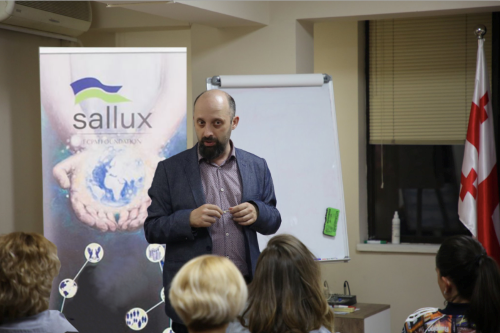 The second day of the seminar was opened by CDPP Acting Chairman and ECPM vice President George Rukhadze, who spoke about the state of Christian politics in Western and Eastern Europe. Ilia State University Professor Levan Kavteli who lectures on Political Ideologies in Europe spoke about differences of Christian parties in Eastern and Western Europe.
The closing speeches were given by Giorgi Targamadze of the CDI and George Rukhadze of the CDPP.
The event contributed to enrich the knowledge of CDPP/YCD young regional leaders in theoretical and practical aspects of Christian Democracy and the state of Christian political parties in Eastern and Western Europe. The final dinner which followed the conference provided an excellent networking opportunity.