News
» Event Report: The Advanced School of Politics XVI Edition

Thursday, February 13, 2020
Event Report: The Advanced School of Politics XVI Edition
The Advanced School of Politics has been scheduled three months lasting event (Feb-April 2020). The initiative has the aim to give students the chance to study and debate many topics about Politics, Institutions, International Relations, Science, Anthropology and Ethical Issues.
In the academic year 2019/2020 edition 40 students took part at the School. Every student had the opportunity to benefit of a 1.000 euro scholarship to cover most of the expenses related with the School attendance.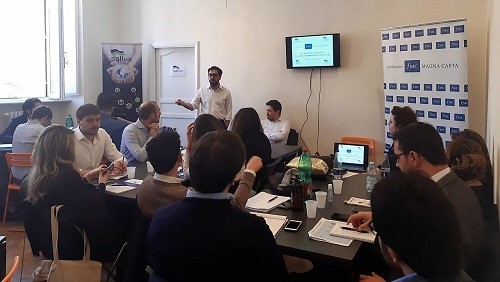 The School has been organised in frontal classes, speeches, Q&A. The Advanced School of Politics is inter-disciplinary by definition. The XIV Edition programme has been focused on five subject matters: History, Economics, Science, Anthropology, International Affairs. The lessons have been given by speakers with outstanding reputation. Many of them are Managers, commis de l'État, Professors, Journalists and Experts.
Unfortunately, after the first week of March, the emergency related to the Coronavirus pandemic, required the lessons to be suspended for health and security reasons.
Once the lockdown was over, the Foundation decided to restart lessons in videoconference to give the 40 students, located all over Italy and abroad, to follow the programme.
The programme has been completely reviewed to offer the participants the chance to debate with professors, managers and journalists regarding the pandemic situation, the consequences expected in the economic, academic & scientific and institutional field. Some of the lessons have been focused on the policies and institutional communication analysis regarding the strategies adopted by the EU and Western Countries in order to face the virus.