News
» Event Report: The conference "Mission: Kingdom of God" (Uppdrag: Guds rike)

Wednesday, November 27, 2019
Event Report: The conference "Mission: Kingdom of God" (Uppdrag: Guds rike)
The conference "Mission: Kingdom of God" is a Swedish version of the ELF, but with European contributors only. Our main target group is leaders and influencers within the church. With the conference we want to equip the participants to make an impact in society through seminars/teaching, networking and Christian edification. The format of the conference is well suited for this purpose. The main focus of the event was the Societal Impact track which was the main focus of the proposal. Together gathered potential influencers and sharpened their thoughts on the issues that were covered. We also hope that some of the participants will become interested in the "Wilberforce Academy", a course run upcoming spring, held by Swedish Evangelical Alliance.
The program for the Societal Impact track looked as follows:
Friday 13.30 - 15.30 Paul Segerstrom: Is the Bible the Basis of Western Civilization?
Saturday 10.30 - 12.00 Lena Johansson: Taking God's Kingdom to Society
Saturday 13.30 - 15.45 Marcus Uvell: The Changing Political Landscape in Sweden and Europe
Per Ewert: Human Rights and the Christian Faith
Jacob Rudenstrand: Freedom and the Challenge of Open Society
David Fieldsend: The UK Report on Persecuted Christians and input in the Societal Impact track
As the conference is now completed, we can look back on two very successful days. This was the second conference, and the number of participants grew with about 60 percent, to 125 including the speakers. The Societal Impact track attracted about 30 participants.
Due to the SEA-Sallux cooperation a number of people were challenged to make an impact in society!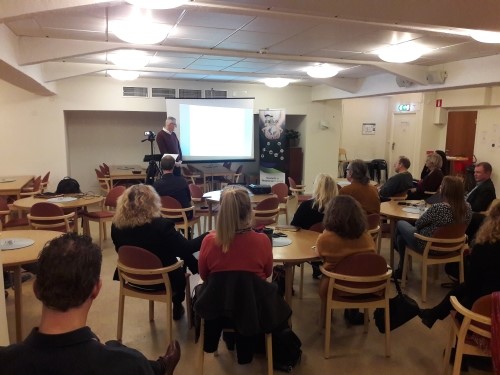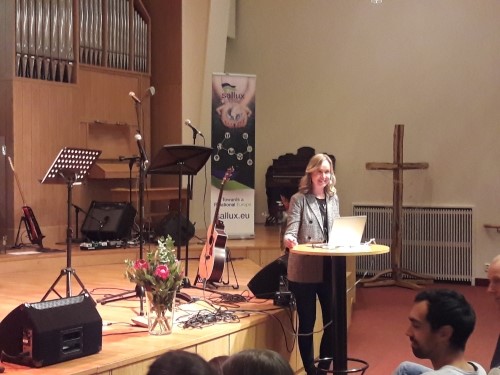 Professor Paul Segerstrom teaches at the Societal Impact track. The lawyer Ruth Nordström speaks at Friday's evening plenary.