News
» Event Report: Supporting Democracy in Syria

Monday, April 16, 2018
Event Report: Supporting Democracy in Syria
From April 10th to 13th Sallux had the honor to host a delegation from the Executive Council of The Federation of Northern Syria through a series of events and high-level meetings. This took place in the context of increasing tensions in Syria. The DFNS delegation was composed of both men and women of all ethnic and religious groups in The Federation and lead by Sanharib Barsom, Co-President of The Federation of Northern Syria.
The Democratic Federation of North Syria (DFNS) was founded on the principles of gender equality, ethnic and religious tolerance, sustainable ecology, and self-defense. Sallux and ECPM have given political and advocacy support to The Federation since 2014 as it is key to solving several key challenges that Europe is facing in terms of migration, integration and terrorism.
The major question behind the visit of the delegation was how the EU its Member States, Churches and NGO's can cooperate with the DFNS to bring post-ISIS stability and freedom. This was the leading motive throughout the event and meetings with the delegation.
On April 10th the program kicked off with a conference in the European Parliament that presented the situation and structure of The Federation of Northern Syria. The event was hosted by Mr. Branislav Skripek MEP (President ECPM) and Mrs. Marijana Petir MEP (EPP/Croatia). The FICDD was a partner organization in the conference. Representatives of governments, Churches and NGO's attended the event. The conference was followed by a press conference in the press room of the European Parliament. In the afternoon the delegation had the pleasure of meeting and having a thorough conversation with Mr. Jan Figel who is the EU special envoy for freedom of religion and belief.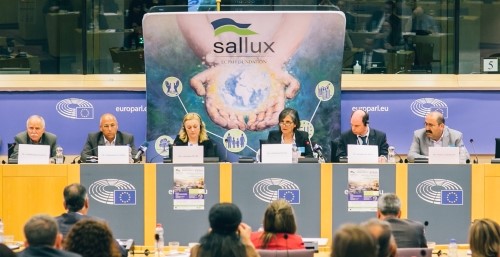 On April 11th the delegation had meetings with media and NGO representatives in order to present their case to a broader audience and find support for humanitarian aid and reconstruction.
On April 12th and 13th the delegation participated in the European Economic Summit (EES) that took place in the Dutch Parliament in Amsterdam. In addition, the delegation met with the Foreign Affairs Committee of the Dutch Parliament after having participated in the opening of the EES. During the EES many NGO's and leaders in development and finance recognized the need to work with The Federation of Northern Syria.
On April 19th the delegation members met with the Dutch Ministry of Foreign Affairs in The Hague and with ChristenUnie and FICDD representatives in Amersfoort.
Sallux thanks all those who made this effort a succes. In particular Sallux wants to thank the Dutch ChristenUnie, FICDD, Mr. Branislav Skripek MEP, Mrs. Marijana Petir MEP and the EES organization. Finally Sallux thanks the Federation Office in the Hague for all their hard work and support. Together we were able to create more and tangible support for millions of people that will help them to live in freedom in Syria.